Custom plastic fabricating include PP, PVC, cPVC, Clear PVC, UHMW, HDPE, LDPE, ABS, Polycarbonate, Polystyrene, Acrylic, and Nylon.
• Chemical Tanks
• Plating Lines and Barrels
• Ducting Systems
• Ventilation
• Fume Hoods
• Custom Sinks, Counter Tops and Cupboards
• Cylindrical Tanks and Fittings
• Waste Treatment Tanks
• Pumps and Heaters
• Various Plastic Accessories
• Racking Stations
• Tables
• Drip Trays
• Custom Plastic Machining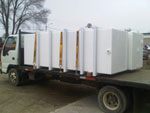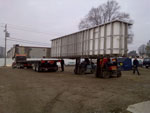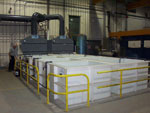 Our services include braking, machining, forming/bending, welding, shearing, rolling, punching. Upon request we can offer on-site welding repairs and modifications.
• Stainless Steel Plating Racks
• Clarifiers
• Framing
• Catwalks
• Tubing
• Ducting
• Agitation Systems
• Titanium Tanks
• Stainless Steel Tanks
• Liners and Repair
• Tables
• Work Stations